©2013, 2019 Annemarie's Ship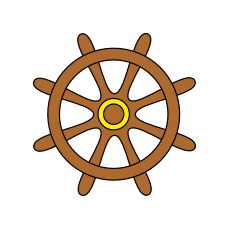 The benefits for patients and carers can be:
relaxation, a chance to recharge the batteries

a break from the routine and associated stresses

connecting with the outside world in a unique and stimulating environment

getting back in touch with nature and the wider spiritual perspective on our place in the world that this can give us

being reminded we can enjoy ourselves, experience new things and are therefore 'separate' from our illness

a chance to share new experiences together with loved ones and refresh loving relationships

a chance to talk about other things than the illness
In fact, all the things 'holidays' are meant to do that give us the energy to 'go on'.
This interesting … project could certainly provide all the above benefits to patients and carers set in a most wonderful part of the UK
Ian James
Occupational Therapist
Highland Hospice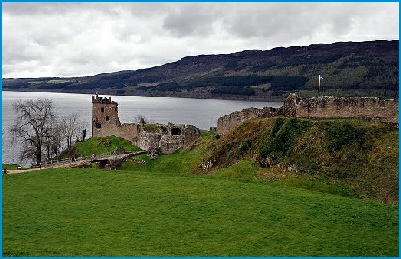 Loch Ness and Urquhart Castle
"…every year our company is approached by families who have a loved one that is suffering from a very serious, often terminal, medical condition and their dream is to take a trip on the Caledonian Canal. Sadly, due to mobility issues and their specific
care requirements, we are often unable to assist…at a time when they are experiencing a very stressful situation, [and] would really benefit from a holiday"
Audrey Hogan
Director, Caley Cruisers
As a GP and cancer care researcher I am acutely aware of the impact of cancer and other long term conditions on patients and their families. There is often significant emotional distress in families…exacerbated by the financial impact and hardship that long term illness can bring and the on-going uncertain future faced by families.
Annemarie's ship will provide a beacon of hope for many families. It will provide a safe, supportive environment where they can relax and enjoy some precious family time together. In addition to providing welcome respite for family caregivers it will give families some physical and emotional space to enjoy being a family: to relax; to have fun together; to discuss and share memories of the past; create memories for the future; and for some, the chance to discuss what is important for their family in their uncertain future ahead. I wholeheartedly support this venture and encourage all those who are able to, to do likewise!
Dr Clare Carolan, MBChB, MRCP, MRCGP, MSc
University of Stirling
I am delighted to support the idea of this business plan to provide a holiday for seriously ill patients and their families…a comfortable cruiser offering accommodation to such families using the natural attraction of the Caledonian Canal would be an objective which would gain my support
Dr Donald MacVicar,
Culloden Medical Practice
This proposal would certainly fill a very important gap and would undoubtedly be a very positive experience for both patient and family
Vonnie Carson, Fundraiser
Maire CurieCancer Care (Highland)
The idea of a hotel on water that can offer you comfort, appropriate facilities and understanding … whilst at the same time allowing you to move around and see beautiful scenery without effort makes a great deal of sense
Eric Butlin, Social Worker
Highland Hospice
This is an exciting project which will give the opportunity for people with cancer and their families to have a relaxing and supported holiday in the Highlands. This will certainly be something we will encourage people who use Maggie's to consider as part of their recovery
Carole Bridge
Centre Head/Nurse Consultant
Maggie's Highlands
Following my discussion with Malcolm Grout and looking at this proposed project I feel that the idea of a relaxing holiday centre for seriously ill ... patients aboard a fully functional ship is wonderful
Karen Daltrey
NHS Specialist Breast Care Nurse